Oricine ar urmari stirile de aproape stie ca se zvoneste in Eurozone. De aici este instabilitate pe piata financiara si cateva banci au dat faliment. Este chiar opus cu porumbeii de la Klaus Stieneker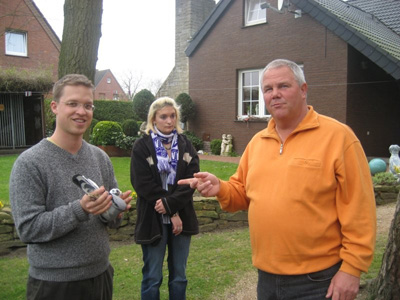 Ei pot fi asociati cu fostul German Mark. Exact ca aceasta valuta, porumbeii de la Klaus Stieneker impugn putere, sanatate si toate cele de ma sus, cu siguranta. Valoare porumbeilor lui Klaus este farte bine cunoscuta. De aceea "Stieneker bank" a fost perchezitionata. In decembrie 2007 43 de porumbei au fost furati.In 2010 Klaus arata ca consistenta porumbeilor sai este cu fermitate mai inapoi decat nivelul din 2007.
Klaus Stieneker traieste in Lengerich, un loc langa Osnabrück, Germania. Nu este doar Klaus care concureaza bine cu porumbe. Fiica acestuia Franziska, impreuna cu nepoata ei Lisa Rose, de asemenea concureaza cu porumbei. Anul acesta doamnele au concurat de cinci ori. Klaus a concurat primele opt ori. Din 2001 pana inclusive in 2010 premiul 1 a fost castigat de 100 de ori de intreaga competitie. Klaus a concurat impotriva a 270 de membri din regiune.
Klaus a format LBS-team , impreuna cu alti 2 crescatori. In timpul cursei de masini din Million Dollar Race, cu porumbelul "Darja", Klaus stieneker, Frank Lehmkuhl si William Boes au fost ca si o echipa, dand cheile unei Mazda nou-noute. "Darja" inradacinat din doi porumbei de la Stieneker. Cu aceasta Klaus a demonstrat ca sunt acasa pe cea mai inalta treapta a podiumului international. Klaus a demonstrat mai devreme cu porumbelul lui "Carlos", care a putut fi vazut la olimpiada in Oostende din 2007
DV 01654-04-1612 Carlos
Carlos este tatal lui:
DV 08-497 18 p18 prizes 1st, 1st, 3rd, 6th, 8th, 16th, 19th, etc.
DV 08-366 18 prizes 1st, 4th, 19th, 24th etc.
DV 07-1156 1,2,3,5 in 2010
DV 10-2600 1,21,40 6/6 in0
And what about the DV 01654-95-1020 father of the
DV 06-20 17 prizes
DV 08-488 14 prizes
DV 04-1617 33 prizes
DV 99-1019 31 prizes
DV 97-12 24 prizes
DV 06-7020 20 prizes
etc.
Porumbeii drecti ai lui Kluas Stieneker au fost inclusi in "Jewels of the sky" de PiPa, incuzand doi copii ai lui Carlos. Am intalnit "virtute germana" aici. In opozitie cu nesiguranta care este aici, cu euro, porumbe lui Stieneker sunt stabili in calitate. Achizitie unui singur dintre acesti porumbei probabil nu va da un randament de masina imediat, asa si cu echipa LBS , dar va oferi crescatorului adevarat multe sanse de a avea avantaj.