Rockefeller este cireasa pe tort concretizand un nou sezon excelent pentru Marc De Cock, castigand poate cea mai dificila cursa din Belgia: 1st National Ace Pigeon All-Round KBDB 2018. Un talentat porumbel s-a nascut in 2018.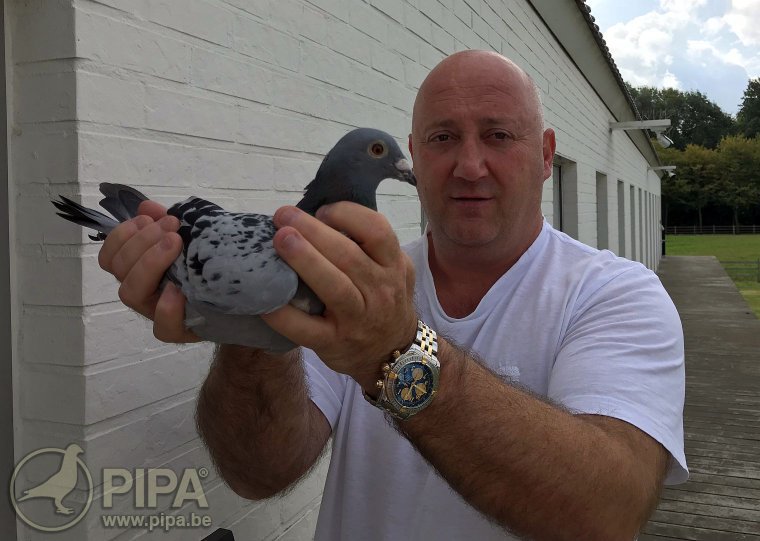 Rockefeller, BE17-4094340, 1st National Ace Pigeon All-round KBDB 2018
Rockefeller castiga titlul 1st National Ace Pigeon Allround KBDB 2018 la odistanta considerabila de locul 2 si 3. El are un coeficient de 6.66% care este cu 50% mai mic decat cel al ocupantului locului 2 (14.25%).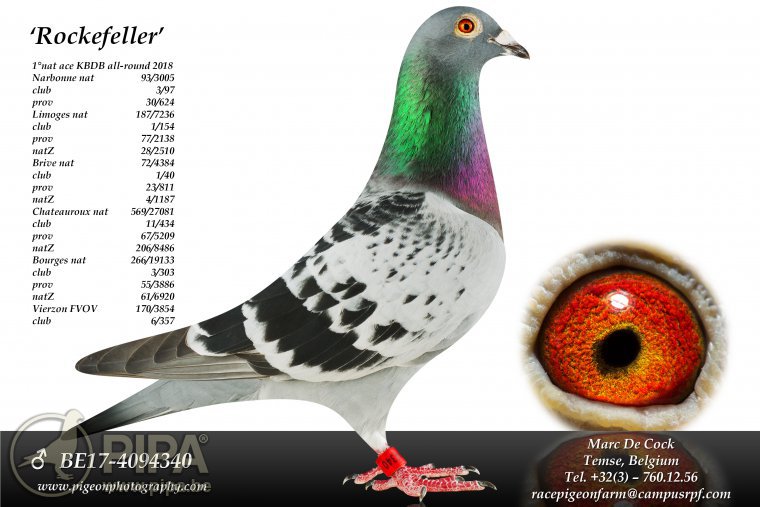 Rezultatele care au fost luate in considerare pentru acest titlu, vorbesc de la sine:
2 premii nationale in cursele de distanta medie:
Bourges (26/05): loc 61 National Zone B1 din 6,920 porumbei
Chateauroux (09/06): loc 67 Provincial din 5,209 porumbei

2 premii nationale in cursele de fond:
Brive (23/06): 4th National Zone B1 of 1,187 porumbei
Limoges (07/07): 28th National Zone B1 of 2,510 porumbei

1 premiu in cursele de maraton (international races):
Narbonne (27/07): 92nd National of 3,017 porumbei
Acestea sunt rezultate excelente intradevar. Trebuie sa aveti in vedere faptul ca doar trei porumbei au reusit sa castige cele 5 premii necesare in acest campionat pentru acest sezon extrem de dificil. Asta dovedeste intradevar cat de dificil este acest campionat. Suntem cu adevarat impresionati de Rockefeller si de coeficientul sau mic.
Rockefeller isi are originile din porumbei de top: tatal lui este frate plin cu Super Ace, locul 6 National Ace Pigeon Long Distance KBDB 2014. Tatal sau este deasemnea tala castigatorului locului 1 Provincial Chateauroux (3,206 yearlingi), 111 National Libourne, 154 National Brive, etc. Tatal provine din incrucisarea perechei de succes Super Etienne (direct Etienne Meirlaen din Deurle, Lange Marseille) x Princess. Super Etienne este frate pe jumatate cu cu Monar, 1 International Narbonne 2009, si bunicul lui Cornee 8th National Ace Pigeon Extreme Long Distance KBDB 2016. Princess este mama locului 1 National Zone B Tulle.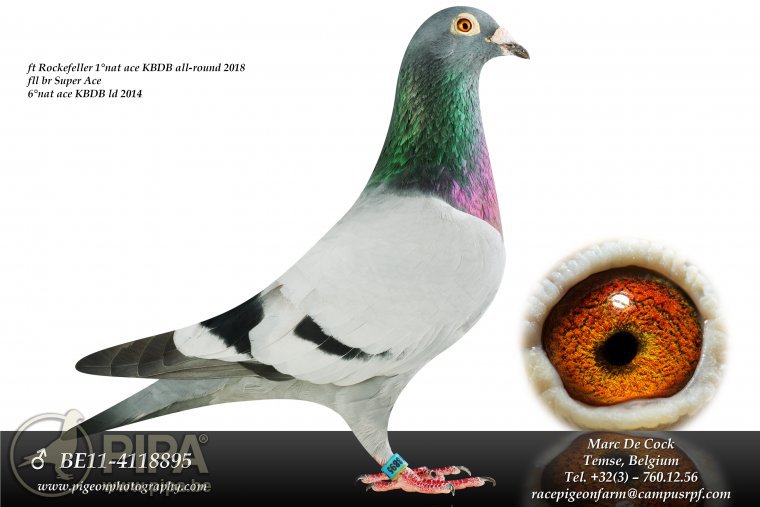 Tatal a doi porumbei de top: Rockefeller & Miss Chateauroux
Mama lui Rockefeller este fiica din Gazpacho (N&F Norman, Knokke-Heist, BE). Gazpacho a fost castigator Olympic la maraton in Budapesta 2015. Deasemenea a castigat locul 4 Provincial Ace Pigeon cu 57th National Souillac (5,282 porumbei) si locul 84 National Libourne (6,658 porumbei).Bunica lui Rockefeller, pe parte mamei, este defapt fiica din Abraham. Abraham este frate plin cu Florian, tata si bunic al doi porumbei Olympiad, locurile 4 si 5, si locul 12 12th National Ace Pigeon Long Distance KBDB si deasemnea tatal castigatorului dn 2008 al celebrei curse One Million Dollar Race winner din South Africa.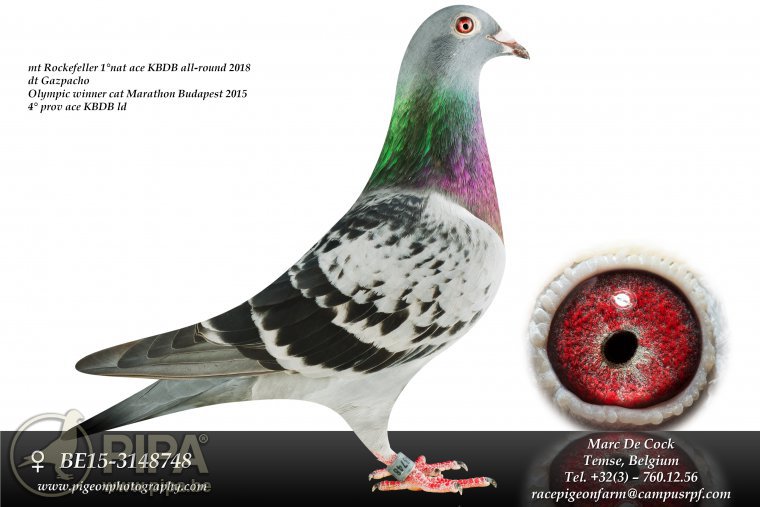 Mama lui Rockefeller, fiica din Olympiad Pigeon Gazpacho (Budapesta 2015)
Rockefeller are un pedigree fantastic; click aici pentru a vede pedigreeul complet.
Povestea din spatele lui Rockefeller, spusa chiar de catre Marc De Cock:
"Rockefeller mi-a atras atentia inca de cand era pui, si nu o spun doar pentru ca avusese rezultate de top. De fapt el a fost antrenat destul de tarziu in acest sezon ca si yearling, special pentru a deprinde experienta. Intr-una din curse l-am observat ca a aterizat pe o stresina a volierei. Mi-am dat seama din aceasta intrare speciala ca este un porumbel cu adevarat special.Probabil a fost doar un sentiment de moment, dar greu ma insala intuitia. Si chiar asa a fost…"