Mike Ganus a obtinut rezultate exceptionale in cursele internationale de One Loft. Pipa face un rezumat aspura acestei familii de porumbei si asupra premilor obtinute in ultimi ani.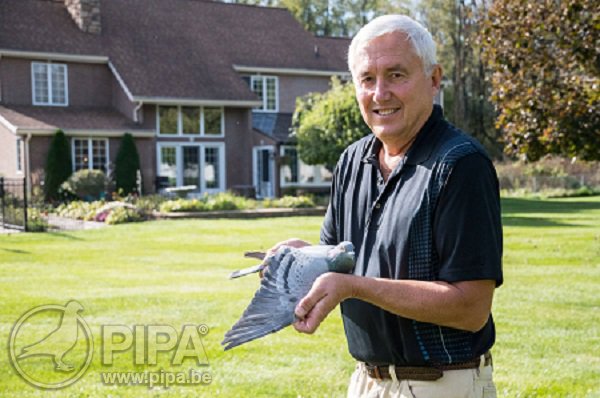 Mike Ganus
In 2012 Mike a vizitat South African Million Dollar Pigeon Race. Era o zi innsorita, cu temperaturi ridicate, umiditate si vant din fata. Si-a dat seama imediat ca porumbeii pe care ii avea nu puteau castiga o astfel de competitie. Porumbeii sai americani puteau evolua in aceste conditii aproximativ 7-8 ore, in nici un caz 11, 12 ore precum ceilalti. A realizat ca are nevoie de porumbei speciali, mult mai puternici si rezistenti. In consecinta a cumparat cei doi castigatori ai cursei din acel an, Untamed Desert si Said in Spun Silver, i-a imperecheat si din acel moment succesul sau a fost incredibil.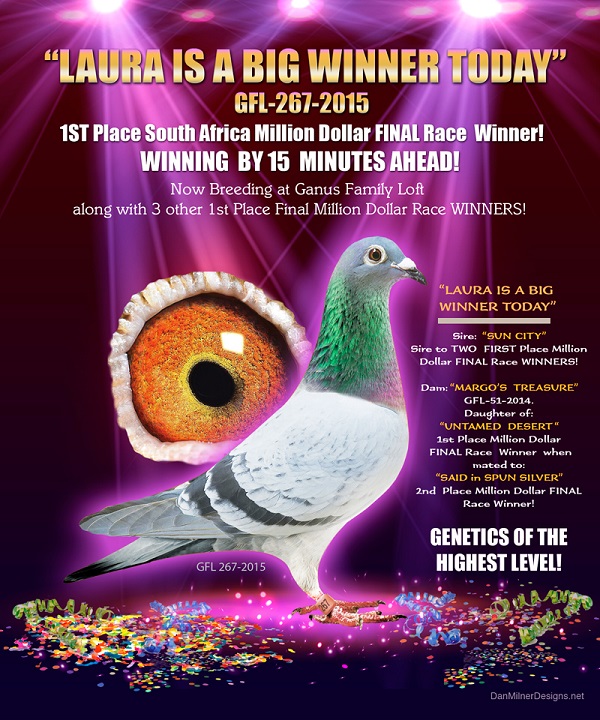 Laura este Big Winner Today
In 2015 Mike a castigat South African Million Dollar Pigeon Race cu un avans de 15 min fata de al doilea clasat. Laura este o mare castigatoare. Tatal ei este Big Winner Today is Sun City, tatal a doi mari castigatori SAMDPR. Mama este Margo's Treasure, o fiica din Untamed Desert and Said in Spun Silver. Mike este incantat sa vada ca nepotii din Sun City sunt castigatori in toate cursele din America.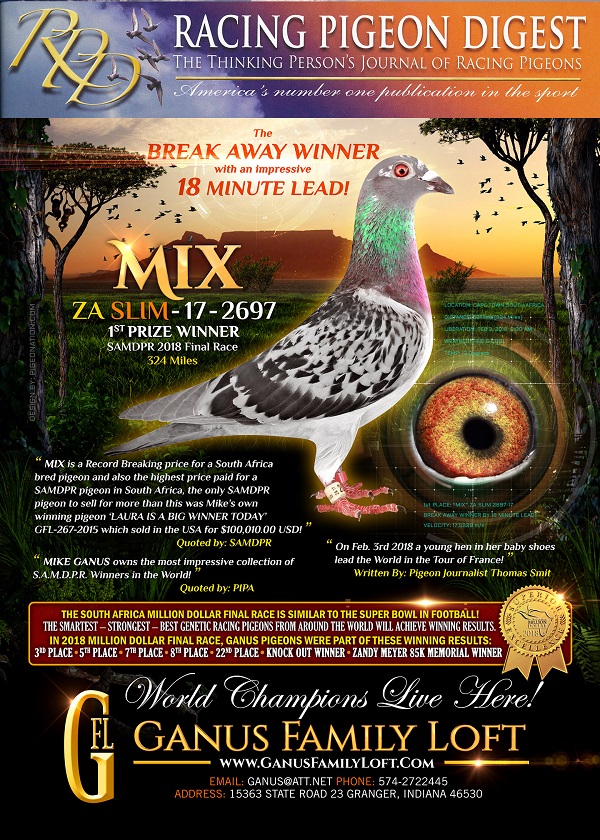 Mix
In editia 2018 de la South African Million Dollar Pgeon Race, porumbeii Ganus au obtinut urmatoarele premii:
3rd, 5th, 7th, 8th and 22nd places
Knock Out winner
Zandy Meyer 85K Memorial winner.
The winner of the race in 2018 was Mix, a pigeon which Mike purchased and which is now breeding winners for him in America
Take a look at a short video of Mix here…
Alte premii obtinute recent de familia de porumbei Ganus:
3rd place Hoosier Classic old bird 500 mile race 2018
1st place Ace Pigeon Hoosier Classic International Million Dollar race 3,150p. 2018
2nd place Top Breeder Challenge One Loft race 2018
1st and 3rd place, Victoria Falls Challenge race 2017
1st place, California Classic race 300 miles 2017
1st place High Desert Classic race 380 miles 2017
1st Ace Pigeon High Desert Classic race 2017
2nd place Cajun Classic 354 miles 2017
3rd Average Cajun Classic 354 miles 2017
7th place Victoria Falls Yearling race 370 miles 2017
1st place Iron Eagle winner 2016
1st Pacific Northwest Challenge 350 miles 2016
5th, 6th and 7th Ace Pigeon Victoria Falls Challenge race Africa 2016
8th place Victoria Falls Challenge race Africa final race 2016
2nd place Snow Bird Classic 315 miles 2015
3rd Ace Pigeon Snow Bird Classic 315 miles 2015
1st Hoosier Classic 325 miles 2014
1st Shasta Classic 360 miles 2014
2nd and 3rd place San Francisco Classic 350 miles 2014
2nd Average Speed Winner cup 2014
2nd Average Speed Desert Yearling Classic 2014
3rd Average Speed Spring Break 300 miles 2014
3rd place Winners Cup 325 miles 2014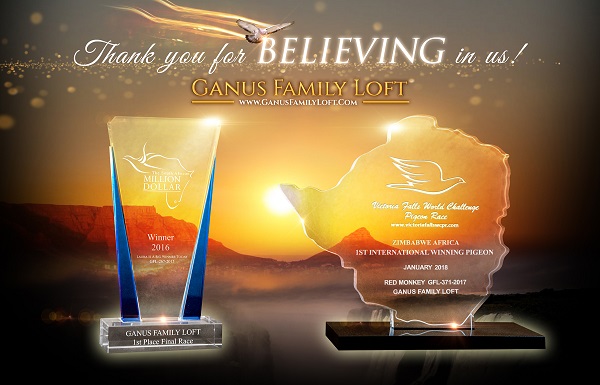 Trofeele Ganus Family Loft
Mike detine multi reproducatori de top, Sun City, Laura is a Big Winner Today, Strain Maker, Said in Spun Silver, Wolverine, Mike has a Very Good One, Untamed Desert, Halover, Sanjay 1, Robben Island and Sylt Orpheus fiind doar o parte dintre ei. Favoritul sau este Said in Spun Silver, Sun City si Wolverine.