Maurice Hasendonckx a devenit un nume de referinta in cursele internationale. El poate fi considerat principalul fondator al liniei Heremans-Ceusters. Euro, Spinneke, Rossi, Olympic Sperwer, Bolt, etc. au fost creati din genele Hasendonckx. Si alti crescatori, folosind aceasi reteta, au creat super porumbei deasemnea.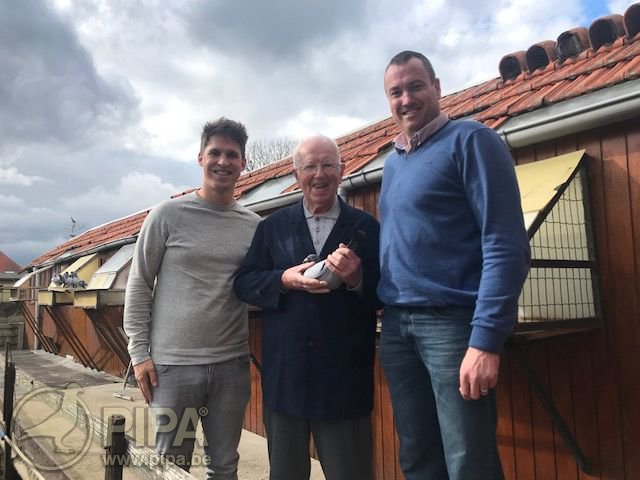 Problemele de sanatate l-au fortat pe Maurice sa diminueze implicarea sa in sportul columbofl. Cu foarte multe regrete a decis sa vand intreaga sa colectie de porumbei maturi, pastrand doar tinerii din 2018. PIPA a fost cea care s-a ocupat de vanzarea acestor valorosi porumbei. Licitatia va avea loc in perioada 20 august – 2 septembrie 2018. Porumbeii Hasendonckx si-au lasat cu adevarat amprenta asupra curselor de porumbei la nivel international, crescatorii avand rezultate remarcabile, atat in campionatele interne cat si externe. Mai jos puteti vedea un scurt rezulmat ce contine porumbeii care au castigat 9 titluri Olympiad, 5 First National Ace Pigeon titles KBDB, si 2 premii intai nationale. Bineinteles, acest rezumat cuprinde doar o mica parte din premiile si rezultatele castigate de acesti talentati porumbei.
Heremans-Ceusters
Euro, BE03-6192564, 50% Maurice Hasendonckx
Euro's grandfather (Favoriet, BE98-6110722)
1st Quievrain 2,687 p.
1st Quievrain 2,516 p.
2nd Quievrain 4,924 p.
4nd Quievrain 2,120 p.
Spinneke, BE03-6192822 x Rossi, BE04-6073655
Bolt, BE12-6123198
Olympic Sperwer, BE12-6123209

Olympic Sperwer, BE12-6123209, 2nd Olympiad Pigeon Nitra 2013.
Jan Junior, BE07-6379887, a great racing bird and winner of:
1st Quievrain 1,090 p.
1st Quievrain 1,022 p.
1st Quievrain 399 p.
1st Quievrain 155 p.
Dirk Van den Bulck
Olympic Rosita & Kittel
Spinneke este deasemnea bunica lui 871-07, care este bunica lui Olympic Rosita, 1st Olympiad Pigeon si mama lui Kittel, Ace Pigeon KBDB 2013. Aceasta inseamna ca linia genealogica a lui Maurice sta la baza dinastiei Dirk Van den Bulck's Kittel.
Willem de Bruijn
Olympic Hurricane, NL10-1688185
Olympic Schanulleke, NL08-1543385
Cees and Maurice Everling
Olympic Sharon & Olympic Froome
Belinda BE06-6057132
Daniel Bucaciuc & Michel Van Muylder
Mr. Fantastic, BE15-2016002
Alwin Petrie
Gigi dynasty – Aunt Rossi BE07-6079938 mama lui Gigi
Chanel & Rossi
The Wonder BE07-6079939 mama lui: Chanel
1st prov. GOU ace pigeon sprint
2nd prov. GOU ace pigeon sprint
4th Nat. ace pigeon sprint/middle distance Best of the Best
6 x 1st ace pigeon in major races
-Rossi
1st Peronne 4,229 p. – 2nd Nat. 23,000 p.
Lancelot & Blue Star
King Lear BE07-6079958. Tatal lui: Lancelot
1st Meer 7,154 p.
1st Pommeroeul 6.847 p.
1st Breuil le Vert 274 p. – 3rd NPO 5,800 p.
-Blue Star
1st ace pigeon sprint District Zutphen 2011
5th prov. GOU ace pigeon sprint 2010
1st Pommeroeul 2,643 p.
1st St. Quentin 160 p.
1st Peronne 104 p.
Luc Van Mechelen
Luc Van Mechelen a castigat cateva premii Ace Pigeon si titluri nationale multumita lui BE06-6057954.
Denis Sapin
Steffi BE12-6298869 a dat nastere la cativa porumbei castigatori Olympiad si a altro numeroase premii. Stefii este mama lui Icha (1st Olympiad Pigeon Brussels 2017 cat. G), Serena (7x 1st Price – 3x 1st Provincial), Venus (2x 1st Prov. Bourges) & Super Maria (1st Prov. Chateauroux).
Foeke Hoekstra
O pereche 100% Maurice Hasendonckx s-a dovedit a fi o combinatie de super clasa. BE10-6224235 Sterke Hasendonckx x BE10-6224274 Daughter Superbreeder 180 sunt parintii lui 1st St. Quentin NPO 9,834 p. si 1st Heusden 12,603 p.