Puii si nepotii din New Harry and Harry Junior isi arata din nou potentialul in 2018, atat in proprile voliere cat si in voliere straine.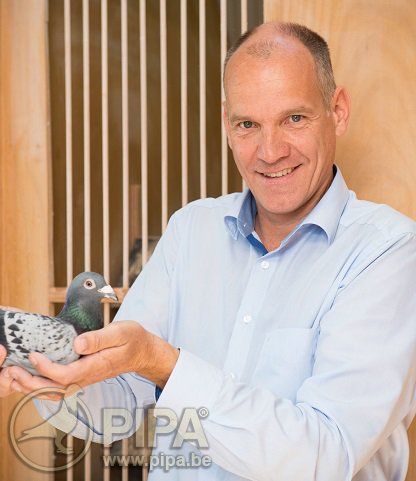 Jan Hooymans si New Harry
Sentimente neclare
Jan Hooymans nu va uita prea curand sezonul 2018. El l-a pierdut pe faimosul sau Harry in August, lucru care a insemnat o mare pierdere si din punct de vedere al calitatii. Dar cei ce-l stiu pe Jan Hooymans, nu vor vi surprinsi sa auda ca echipa sa de reproducatori este pregatita sa acopere acest neajuns. Cu alte cuvinte, are pregatiti cativa porumbei foarte talentati care abia asteapta sa se faca remarcati.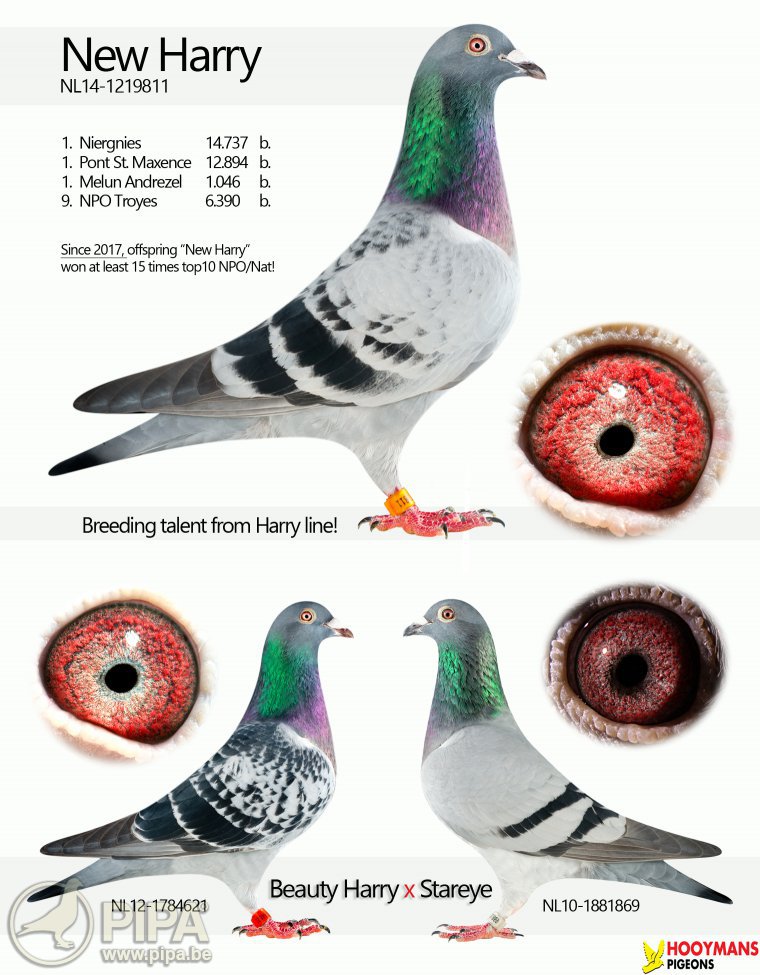 NL14-1219811 New Harry, tatal locului 1 National Nanteuil sector 3 of 14,422 p.
New Harry
NL14-1219811 New Harry este fiu din perechea NL12-1784621 Beauty Harry x NL10-1881869 Stareye.
Acest lucru il face pe New Harry frate cu Max, locul 1 National Ace Pigeon middle distance YBs PIPA Ranking 2015. New Harry a avut o cariera unica in cursele columbofile, castigand locul 1 Niergnies 14,737 p., locul 1 Pt. St. Maxence 12,94 p. si locul 1 Melun 1046 p. Ulterior a fost transferat in volierele de la Kerkdriel, iar puii si nepotii lui castiga in prezent numeroase premii.
NL18-5002214 Jane, nepoata din New Harry. Jane a castigat locul 1 National Nanteuil sector 3 of 14,422 p.
Locul 1 National pentru nepoata din New Harry
Puii si nepotii din cei mai buni porumbei Hooymans sunte testati in volierele de concurs ale lui Christian van de Wetering (Wijk en Aalburg), aceasta fiind o strategie buna. Datorita porumbeilor lui Jan, Christian a castigat premiul de cel mai bun crescator din Olanda competia WHZB 2018. Suplimentar, el a castigat si locul 1 national porumbei tineri Nanteuil din 14422 porumbei cu Jane, o nepoata a lui New Harry.
Lucrurile incep sa se lege…
New Harry a fost des imperecheat cu diferite porumbite, dar se pare ca rezultatele cele mai bune le-a avut cu doua dintre acestea. Prima este NL14-1210073, fiica din Harry. Din aceasta pereche au rezultat doua fiice care au castigat locuri top 10 NPO. Prima, NL18-5002284 , a castigat cursa NPO de la Niergnies, unde a terminat pe locul 9 din 4849 porumbei. A doua porumbita, NL17-1410218 Child New Harry, a castigat locul 10 in cursa Npo de la Chateauroux din 3514 porumbei.
New Harry a performat chiar mai bine cu porumbita NL14-1208707 Laatje 707, o fiica din Harry X sora Laatje 56. Impreuna au avut 4 porumbite care au castigat cinci premii top 10 NPO pentru patru crescatori diferiti:
NL16-1663953, Poelstra & Sons (Utrecht, NL) -the dam of;
NL17-1087086 4th NPO Orléans of 5228 p.

NL17-1087332 7th NPO Chateaudun of 1974 p.

NL17-1087332 18th National N.U. Bourges of 16658 p.
NL16-1663889, R. van Oss & Son (Velddriel, NL) – the dam of;
NL18-5197627 4th National Melun Sector 3 of 8389 p.

7th Ace Pigeon YBs Prov. 7 Central Holland
NL16-1663954 Jan Hooymans (Kerkdriel, NL) – the dam of;
NL18-5002201 9th National Nanteuil of 14,422 p.

raced by Chr. v.d. Wetering
NL17-1409832 Jan Hooymans (Kerkdriel, NL) – the dam of;
NL18-5002387 10th NPO Melun of 3882 p.

11th National of 8389 p.
Reveniti maine pentru a citi partea final a cestui reportaj.