Barcelona este cea mai importanta cursa de porumbei a sezonului din Europa de Vest. Aproape orice crescator spera sa castige la un momendat acest trofeu. Datorita PIPA puteti castiga un porumbel cu gene nobile din Barcelona, un nepot al lui New Laureat, prin prezicerea vitezei medii a castigatorului din acest an. Participa si castiga!
Va reamintiti editia de anul trecut? A fost o cursa tropicala din Barcelona in care porumbeii au fost lansati la 7.40 CEST. Castigatorul a fostSpecial One al echipei Cuffel P. & Son Family din Franta, fiind singurul porumbel care a ajuns acasa in aceeasi zi (vineri). Locul 2 a fost obtinut de echipa belgiana Noël Peiren, iar locul 3 de Kees Droog (Holland), Castigatorul de la PAU de acum 2 saptamani.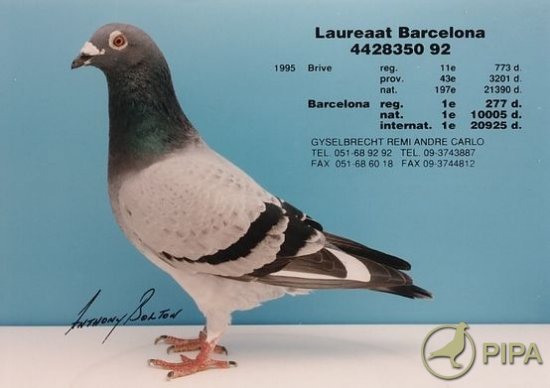 An de an PIPA asteapta cursa internationala de la Barcelona. In definitiv, familia Gyselbrecht a fost atrasa de aceasta cursa din prima clipa de cand au participat la cursele de porumbei. Nu este de mirare ca interesul lor a crescut si mai mult de cand au castigat acesta cursa cu Laureaat Barcelona in 1995. Familia de porumbei a lui Dr. Carlo este compusa in mare parte din descendenti din Laureaat Barcelona, pui care isi dovedesc valoarea incontestabila chiar la si 20 de ani de la victoria lui. Vedeti un raport al dominatiei liniei genetice Laureaat Barcelona.
Castiga un pui din Laureaat Barcelona si New Laureaat, doi dintre castigatorii cursei de la Barcelona
Aveti sansa sa castigati un pui ce poarta genele de aur Laureaat Barcelona. Un pui tanar crescut chiar de Dr. Carlo Gyselbrecht, care provine din castigatorii cursei de la Barcelona din anii 1995 si 2013: nepot din New Laureaat (1st International Barcelona 2013 in crescatoriile Luc Wiels') si incrucisat cu unul din porumbeii ce fac parte din elita de porumbei a familiei Gyselbrecht, Laureaat Barcelona.
New Laureaat este nepotul lui Laureaat Barcelona, porumbelul familiei Gyselbrecht care in 1995 a castigat 1st International Barcelona. O performanta de exceptie a acelor timpuri din moment ce numai 3 porumbei au reusit performanta de a depasi 1000 metri pe minut si datorita faptului ca porumbelul care a sosit pe locul 4 a ajuns la o diferenta de 1 ½ ore de Laureaat Barcelona! Putem spune fara sa gresim ca porumbelul pe care puteti sa-l castigati provine cu adevarat dintre cei mai buni! Si bineinteles, cu totul gratuit! Puteti vedea pedigreeul porumbelului pe care-l puteti castiga in acest an la concursul Barcelona.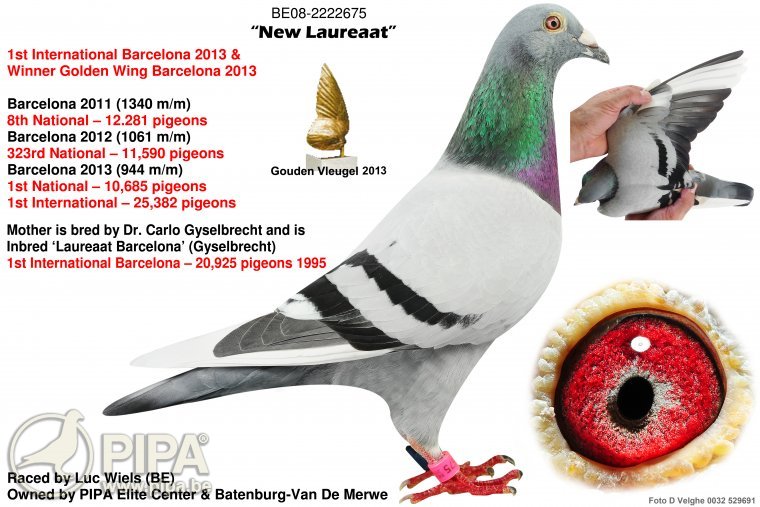 Avand un nepot din New Laureaat veti obtine o linie genetica din dianstia Laureaat, dinastie ce a dominat ultimii ani in cursele de fond:
1st Int. Barcelona 1995 – Gyselbrecht (Laureaat Barcelona, directly bred by Dr. Carlo Gyselbrecht)
1st Int. Barcelona 2003 – Fauche (great-grandchild Laureaat Barcelona, grandfather was bred by Dr. Carlo Gyselbrecht)
1st Int. Barcelona 2013 – Wiels (great-grandchild, the dam was bred by Dr. Carlo Gyselbrecht)
1st Int. St.-Vincent 2014 – Meulemans-Damen (great-grandchild Laureaat Barcelona) 2nd Int. Barcelona 2008 – Van Kerckvoorde (great-grandchild Laureaat Barcelona, grandmother was bred by Dr. Carlo Gyselbrecht)
1st Nat. Pau 2006 – Moens (grandchild Laureaat Barcelona)
1st Nat. Ace Pigeon Grand Distance KBDB 2008 with 0.25% – Etienne Meirlaen (great-grandchild Laureaat Barcelona)
O lista impresionanta in care New Laureaat se incadreaza perfect multumita performantelor sale in cursele Barcelona, perfomante ce i-au adus titlul de 1st Best Barcelona Bird International 2011-2013:
Barcelona 2011 (Velocity: 1340 mpm)
1st Brabant – 1,550 p.

8th Nationaal – 12,281 p.

41st International – 26,650 p.
Barcelona 2012 (1061 mpm)
43rd Brabant – 1.512 p.

323rd National – 11,590 p.
Barcelona 2013 (944 mpm)
1st National – 10,685 p.

1st International – 25,382 p.
Aceste rezultate nu sunt atat atat de impresionante daca privim pedigreeul lui New Laureaat:
Din partea tatalui:
Great grandfather on grandfather's side of the family tree: Arthur, 1st Int. Bordeaux 1995
Great grandfather and -mother on grandmother's side: parents 1st Prov. & 15th Nat. Barcelona 1990
Grandfather: from the pedigree Arafat, father of 1st Nat. Perpignan 2003
Din partea mamei:
Great grandfather on grandfather's side: Laureaat Barcelona, 1st Int. Barcelona 1995
Great grandfather on grandfather's side: full sister Narcis, 2nd Int. Barcelona 1995
Great grandfather on grandmother's side: King, 61st Nat. Barcelona
Great grandmother on grandmother's side: Monica, daughter Laureaat Barcelona
Mama nepotului din New Laureaat este o incrucisare dintre Laureaat Barcelona si o fiica a asului in cursele de maraton Nathan.
-Nathan BE10-4258537
Crescut in volierele Dr.-ului Dr. Carlo Gyselbrecht din Knesselare, dar concurat cu volierele Degrave-Gyselbrecht din Wemmel. Mama sa, Nathan Laureaat hen BE08-4270165, este descendenta din Laureaat Barcelona. Ea este o nepoata dubla a Laureaat Barcelona, provenind din imperecherea a unui frate pe jumatate cu o sora pe jumatate (din fiu si fiica Laureaat Barcelona). Tatal lui Nathan, Maurisco Laureaat provine deasemenea dintr-un nepot al lui New Laureaat si este fiu al 1st International Perpignan 17,643 b. 2008 (Robol) si frate pe jumatate cu 2nd International Barcelona 23,708 b. 2008 (Van Kerckvoorde). Inca odata spunem ca "aschia nu sare departe de copac". Nathan a castigat:
Barcelona   Nat.       10,542 b. 11
            Internat.  25,294 b. 16
Perpignan   Prov.         451 b. 28
            Nat.        5,613 b. 337
            Internat.  15,106 b. 676
Vedeti descendenti din Nathan.
Ca sa fie si mai clar, New Laureaat si bunicul sau Laureaat Barcelona au sange de invingatori.
Participa si castiga un nepot din New Laureat
V-ar place sa castigati Barcelona? Atunci aceasta este sansa voastra. Castiga un nepot din New Laureaat (1st International Barcelona 2013) din 2016 trimitandu-ne prezicerea Dvs privind concursul Barcelona din acest an.
Atentie: Participarea se face doar prin completarea formularului online!
Ghiciti viteza medie a castigatorului cursei Barcelona din acest an si ne-o trimiteti prin completarea formularului online pana vineri 1 Julie 2016 – 06.00AM CEST, cel tarziu.
Atat membrii inregistrati cat si ceilalti pot participa. Fiecare crescator poate participa doar odata.Pariurile facute de crescatori in numele fiilor, fetelor, nepotilor, etc nu se vor lua in considerare. Exceptie fac crescatorii care trimit estimarile pentru membrii familiei care participa sub alte nume si fac parte din federatia nationala de porumbei.
Regulile:
Oricine ghiceste sau se apropie de media vitezei (metri pe minut) a castigatorului Barcelona 2016 va castiga.
Doar o singura estimare per crescator este permisa. Estimarile facute in numele membrilor familiei care fara ca ei sa fie membrii ai federatiei columbofile sunt considerate invalide.
Participarea este vadia doar daca completati formularul online cu adresa Dvs, datele de contact si estimarea (numarul de metri pe minut cu maxim 3 zecimale, ex. 1042.324)
Va rugam sa scrieti doar cifre. (nu mpm, sau m/min)
Formularul online poate fi completat pana vineri 1 Iulie 2016 ora 06.00 AM CEST
Castigatorul poate sa ceara sa i se trimita porumbelul la adresa mentionata sau poate sa-l ridice de la PIPA.
Puteti urmari in direct cursa Barcelona din acest an pe site-ul PIPA. Succes!