Finala cursei 2016 Derby Arona a avut loc vineri 18 martie. Pe o vreme insorita, 490 de porumbei au fost eliberati pentru cursa de 275 km. După ce a zburat de aproape trei ore, Lee Ray a ajuns primul și a câștigat medalia de aur pentru columbofilul austriac Beniamin Neag. Crescatorii din Marea Britanie, Team Well Wag si Mark Gilbert, au câștigat argintul și bronzul competitiei.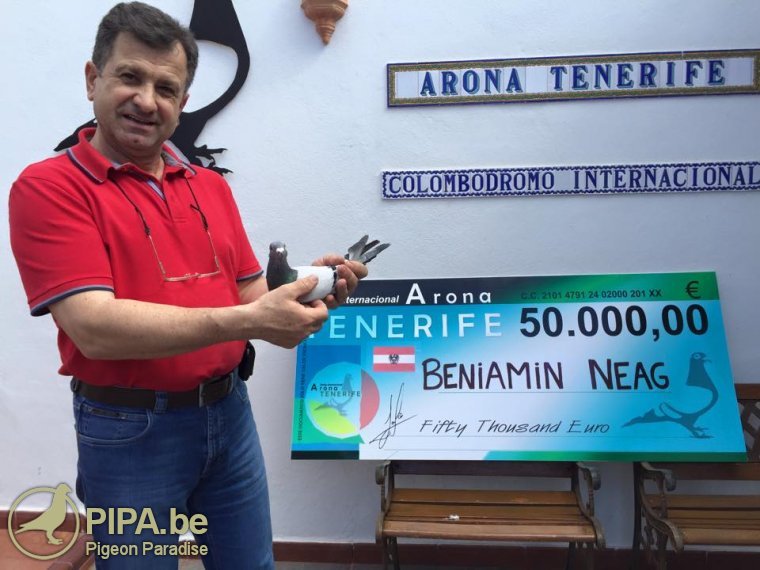 Austria bate Marea Britanie
Peste 2.600 de pasari au fost trimise de pe insula Canare in cursa Derby Arona din acest an. Dupa aproximativ patru luni de la primul antrenament de calificare, cursa finala a avut loc vineri, 18 martie. 490 de păsări au fost eliberate pe o vreme însorită pentru o cursă 275 km. Lee Ray, porumbelul columbofilului austriac Beniamin Neag a fost prima pasare care a terminat cursa. Sosind la 11: 45: 36.20, ii invinge urmăritorii lui cu numai 1,20 secunde (Team Well Wag, UK) și 1,80 secunde (Mark Gilbert, UK). Succesul columbofilului austriac Beniamin Neag nu s-a rezumat doar la primul loc, el avand alti doi porumbei clasati in Top 100, locul 6 si locul 72.
Examinand pedigriul pasării câștigătoare, este evident că victoria nu este o surpriza chiar atat de mare. Porumbelul Lee Ray are adn-ul mai multor pasari Gaby Vandenabeele. Bunicul său a câștigat multe premii de top si este nepotul lui Wittenbuick (Vandenebeele). Bunica lui unește două dintre cele mai bune gene Vandenebeele: (din nou) Wittenbuick și Bliksem. Ea este fiica unui fiu Wittenbuick x fiica Kolonel (jumatate-sora Bliksem). Din partea mamei sale, mentionam numele lui Gaston Van de Wouwer, crescator de clasă mondială Kaasboer.
Performanțele totale remarcabile
Finala din acest an a fost caracterizata rezultatele foarte bune a multor crescatori. Se pare că liniile genetice a unora dintre aceste crescatorii sunt realizate pentru cele mai dificile curse. Vom rezuma pe scurt primele 25 de crescatorii care au castigat mai multe premii de top:
Beniamin Neag (Austria): Three prizes in the final race, all of them top 100 (1st, 6th and 72nd). A splendid result!
Mark Gilbert (UK): Five prizes, two times top 100 (3rd and 55th).
Team Florea Sorin (Romania): Six final race prizes of which no less less than four times top 100 (5th, 33rd, 88th, 92nd). They have the most top 100 prizes in this year's final of the Derby Arona.
Team Ladys Germany (Germany): Two prizes, two times top 100 (7th and 86th).
Karel Clemens (Czech Republic): Four prizes in the final, two times top 100 (9th and 35th).
Team Dionisio & Pandiella (Spain): Two final race prizes, viz. 10th and 62nd.
Team Soepboer (Netherlands): 11th, 46th and 89th with just three prizes in the final.
Team Garcia & Nagelhofer (Austria): 14th, 21st and 34th with just three final race prizes. Another splendid achievement by an Austrian racing team!
Team Casey & Rainbow (UK): 15th and 60th with only two prizes in the final.
Team Klaas & Sohn (Germany): 23rd, 49th and another prize outside the top 100. Three prizes in the final in total.
La fel ca și anii precedenți finala din acest an a atras un numar mare de concurenti si spectatori.